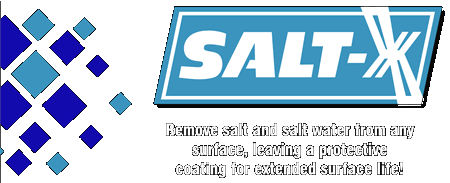 The Ultimate Metal Protector!
Super Concentrated Salt
& Salt Water Counteractant!
Miraculously removes salt and salt water from any surface and leaves a protective coating that preserves and extends surface life!
Salt-X Fights: Rust, Corrosion & Salt Water!
Safe for use on all metals, exclusive rust inhibitor, biodegradable, mixes with water, simple to use… just spray Salt-X on!
Organic Odors Giving You a Headache?
PHEW-GO Super Concentrated ODORLESS DEODORIZER & CLEANER is designed to remove all organic odors and soils from virtually any surface. PHEW-GO eliminates offensive organic odors and leaves NO after odor!
Eliminates organic odors
Does not cover up odors
Contains no enzymes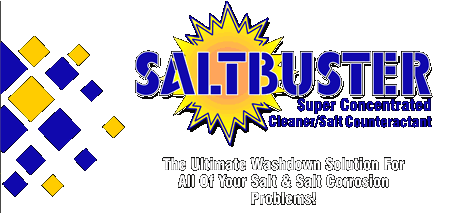 The Ultimate Washdown Solution For All Of Your Salt Corrosion Problems!
SALTBUSTER® SAFELY & EFFECTIVELY removes salt and salt water from virtually any surface which preserves and extends the service life of your equipment.
SALTBUSTER® SUPER CONCENTRATE was designed to take advantage of the SALT-X technology by combining a general purpose detergent with SALT-X. The result is a general purpose cleaner that not only removes mild to medium soils, grease, oil and hydrocarbons but also removes even the harshest of salt buildup! A unique corrosion inhibitor in SALTBUSTER® actually leaves a dry non-oily coating to temporarily protect against further salt exposure.