The Ultimate Metal Protector!
Super Concentrated Salt
& Salt Water Counteractant!
Miraculously removes salt and salt water from any surface and leaves a protective coating that preserves and extends surface life!
Salt-X Fights: Rust, Corrosion & Salt Water!
Washes & Rinses Salt Away!
Safe for use on all metals, exclusive rust inhibitor, biodegradable, mixes with water, simple to use… just spray Salt-X on!
INNOVATIVE - New product designed to protect virtually all metal surfaces from the destructive effects of chloride salts and event the salt air found in coastal areas. Salt-X is a unique combination of counteractive ingredients that attacks, dissolves, deactivates and removes salt and salt water deposits from any surface, instantaneously.

SAFE TO USE - Biodegradable and safe to use on all metal surfaces, Salt-X significantly reduces the corrosive, harmful effects of salt and salt water deposits, thus extending the life of metal surfaces exposed to this destructive element. Salt-X is USDA authorized!

EXCLUSIVE CORROSION INHIBITOR - Salt-X contains an exclusive corrosion inhibitor, "ANTICHLOR", which is a primary ingredient of the protective coating theat helps preserve the metal surface. Although Salt-X will not correct past damage, it will definitely help to reduce further damage when used as directed.

UNLIMITED USES - There's nothing on the market to compare with Salt-X for preserving the metal on your boat, boat motor, car, truck, motor home, trailer, even your fishing reels, bikes, air conditioners, metal utility buildings, etc. See expanded list on back cover.

A MONEY-MAKING INVESTMENT - By using Salt-X regularly as a "Preventative Maintenance" item on all of your equipment, you will retain the "like new" look and value for trade in or outright sale. The ultimate savings will be quite significant, like cash in the bank.

ECONOMICAL - Super concentrated Salt-X is extremely economical. Just two ounces per gallon of water is sufficient for most types of applications. See directions for use on previous page.
SALT-X is a concentrated rinsing/flushing agent designed exclusively to remove salt residue/crystals from any surface! SALT-X can be used for rinsing shipboard equipment, ALL tracked and wheeled vehicles and equipment, clothing, web gear, tents, scuba gear, boats, outboard/engines, buildings, air conditioners, etc. EXCELLENT for rinsing homes, buildings, shrubbery, etc., after hurricanes and coastal storms!! Anywhere salt is a problem, SALT-X can be used!

SALT-X, when mixed with fresh water, does several things...
1. It buffers the salt film on the surface and pacifies the metal.
2. It dissolves and lifts the salt film back into solution to be rinsed away.
SALT-X gets into cracks and crevices, it will quickly kill the salt residue that has accumulated there! As Aggressive as SALT-X is in removing even the harshest build up, laboratory tests have proven SALT-X to be NON TOXIC & ENVIRONMENTALLY SAFE!! SALT-X is as easy to use as...1 - 2 - 3.
1. Mix 2 ounces of SALT-X per gallon of water. (Saltwater can even be used in some emergency situations!)
2. Rinse surface thoroughly or flush through outboard engine, outdrive, jet skis, etc.
3. LET AIR DRY!!!!
NO rubbing, scrubbing or further rinsing required!! It's that simple!! As one Marine officer at a recent EXPO said, "In today's high tech world, it's nice to have something as simple to use and as effective in doing what it was designed to do as SALT-X is." Repeated use by Marine Expeditionary Units has shown using SALT-X on a regular basis to rinse equipment has resulted in TREMENDOUS $AVING$. The time and dollars spent before on correcting salt damage can now be used in other critical maintenance areas! In today's world where everyone wants everything done yesterday, the speed of action, safety (to people, pets, and the environment), performance and economy of SALT-X, make it a MUST for anyone in a salt environment !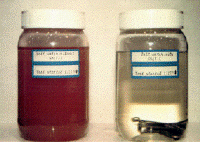 The photo above is a graphic illustration of just how effective SALT-X is. After a period of 12 days the hooks, nuts, and bolts in the left hand jar are clearly corroded, while the same items in the jar on the right are clearly unaffected. This Picture was taken on February 8, 1991, at the Dive Equipment Manufacturers Association in Las Vegas, Nevada. This simple demonstration with hooks, nuts, bolts, etc., shows how effective SALT-X is in reducing the corrosive action of salt.
SALT-X is available in several different sizes for ease of handling for your particular application. SALT-X is shipped in a Super Concentrated formulation, this means that one unit of Super Concentrated SALT-X will make 65 units of finished product. Additionally, SALT-X is available in a Ready To Use Extra Strength 22 oz Spray bottle and Ready To Use Extra Strength 8 oz Spray Bottle That Is Ideal For Your Tackle Box.
Added convenience is available with our unique Auto Mix Unit. The Auto Mix Unit conveniently mixes the correct amount of Super Concentrated SALT-X with water from your garden hose.

USES
Boats
Boat Motors
Boat Sails
Railings
Boat Trailers
Rod & Reels
Cars
Trucks
Buses
Utility Buildings
Air Conditioners



Vans
Motor homes
Mobile Homes
Travel Trailers
Bicycles
Motorcycles
Food Processing Plants
Service Areas
Equipment
Storm Windows
Patio Furnitu

Tents & Camping Gear
Diving Equipment
Ocean Shipping Containers
Shipboard Equipment
Construction Equipment
Salt Spreaders
Snow Plows
Train Locomotives
Boxcars
Shopping Carts
Etc.
Please download our pdf brochure on the right for detailed information on usage instructions.